ICONSIAM Shopping mall launch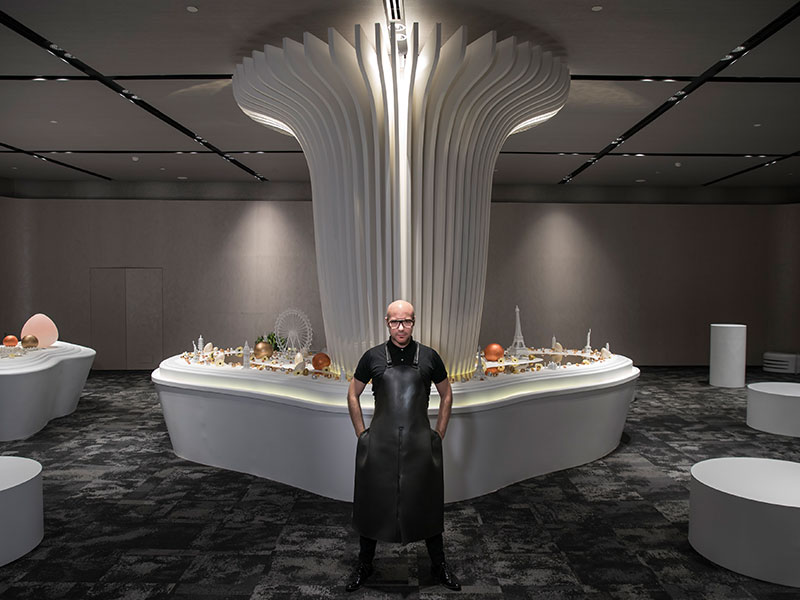 In 2018, Wolfe was chosen to headline the opening of the grand launch of the ICONSIAM Shopping Mall in Bangkok. An impressive building that boasts a museum teeming with Thai antiques you would struggle to find anywhere but the museums in Old Town alongside luxe fashion brands, ICONSIAM is a beautiful representation of the symbiosis that exists in Bangkok. Floating markets combine with world class dining experiences and firsts in Thai shopping experiences.
It takes something truly incredible to stand out in Bangkok's bustling labyrinths of malls, complexes and exciting experiences. ICONSIAM seems to have checked all the boxes.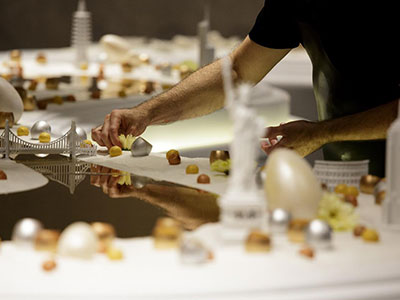 To celebrate bringing new technology to Thailand through certain stores, ICONSIAM needed to create an experience for the opening that invited people to see new, previously unimagined affairs. Tom Wolfe's artistic explorations between fashion, food and experiences made his work the perfect addition to this opening.
This merging of the traditional and the luxurious was both a fantastic inspiration for and reflection of Wolfe's own work. Working with his friend and colleague the noted couturier SORAPOL together they produced Wolfe's iconic Food Fashion Show for Asia's rich and famous.
SORAPOL's collections combine traditional artisanal techniques with subversive silhouettes and decadent fabrics. This opulence is a regular feature of Wolfe's work and the merging of the two artists created an elegant yet dynamic atmosphere that showcased their vision while perfectly complimenting ICONSIAM's vision.
Wolfe's edible fashion has never failed to be a compelling experience showcasing a unique perspective on fashion, food, art and beauty and his work at ICONSIAM was no exception. This work is more than art, more than food and more than fashion. It is a complete sensory experience that combines visuals, scents and tastes to create a conceptual experience that is truly exquisite. As a food artist, Mr Wolfe's attention to detail always sets his work apart and ICONSIAM was no exception.
For the VVIP Room, Wolfe created a luxury version of his iconic edible installation "Eggs in Sand," which combines a global skyline surrounded by a gold river of Thailand and filled with delicious architectural canapés and sweets. The original was inspired by the work of British stage designer, author, artist and director Derek Jarman's final film Blue. The surreal seascape creates evocative images of mortality and the ocean and how they connect and intertwine throughout his work.VIP guests included the Thai royal Princess and actress and philanthropist Naomi Watts.