M&S Food Styling by Tom Wolfe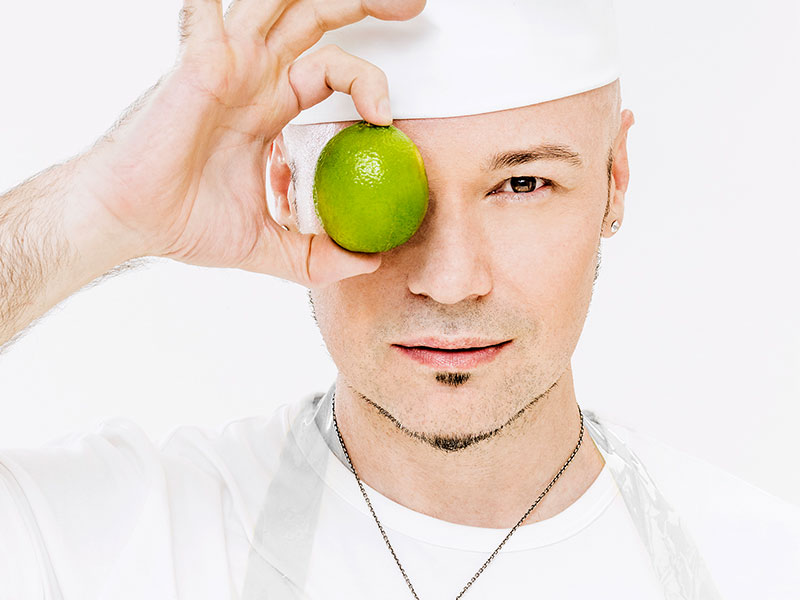 Chef and Food Artist Tom Wolfe recently had the pleasure of working with the iconic British brand Marks & Spencer's.With his unique take on art direction and innovative work with photographer Richard Haughton, Wolfe has recently caught the eye of many top brands such as LVMH, Dom Perignon, Hennessy and HUAWEI where he is has been a brand ambassador and creative go to chef.
This is Wolfe's first foray into the world of daily publishing by styling a variety of still life shots, both food and home, for Style & Living, M&S's magazine. A key focus of Wolfe's role was in a food stylist capacity, using a variety of styling techniques to promote an assortment of food from M&S's range, from clementine Christmas pudding, to chili and lime calamari and the Gold G and Tea cocktail.
In Wolfe's cookbook, Zakuski, he displayed all the soups in shot glasses, and he found the same technique very effective in promoting the 'zingy green juice with peas, mint, lime and apple' for M&S, the clarity of the glasses allowing the colours of the juice to shine through. In displaying M&S's range of Christmas canapés Wolfe was able to make use of vintage 1930's plates from his own collection, the red of the plate mirroring the backdrop and working wonderfully to create a luxurious Christmas aesthetic. M&S is a brand associated with luxury, something Wolfe wanted to emphasise with his styling. In presenting their 'Gold G and Tea'cocktail, Wolfe explained, 'I had 20 minutes to gold leaf an entire wall to get this shot!', something that was totally worth it in the final image, which has perfectly captured an air of decadence. Creativity remained at the heart of Wolfe's styling technique, such as in presenting the clementine Christmas pudding, where, inspired by the doming effect of the pudding, he added fresh clementine and cranberries to achieve a floating constructivist effect.
This shoot would not have been possible without the photography of Richard Haughton, whose great technical genius can be seen throughout and especially in the image of the Devon Farmhouse Cider, which was achieved in one shot.